July 31, 1997
Web-slingers: Needham organizations find working with the Web is profitable and educational
By KIRK ENSTROM
STAFF WRITER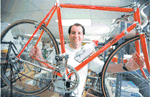 Photo caption: Michael Kone, president of Bicycle Classics, Inc. The Highland Avenue business is one of several in Needham that advertise on the World Wide Web.
Amy and Lee Levitt think the town of Needham is a pretty great place. So great, in fact, they're sharing it with the world.
The Levitts have set up a site on the World Wide Web, the graphical part of the Internet, to allow people to learn more about the people, businesses and organizations of Needham. NeedhamOnline, reachable at http://www.needhamonline.com, is just one of several web sites that originate in Needham.
The World Wide Web has grown increasingly popular, and businesses are finding it an easy way to reach out to new customers, Amy Levitt says. NeedhamOnline includes sites for several businesses, such as The Grey Goose on Chapel Street and the Needham Garden Center on Chestnut Street.
The Levitts even run two businesses along with NeedhamOnline. Amy Levitt operates her home business, Amydoodles, off the Web, allowing customers worldwide to purchase her crafts. The couple also runs a Web authoring company, MagicPub.
While NeedhamOnline will offer free space to nonprofit organizations in Needham, MagicPub exists to design and build web sites for businesses anywhere in the world, according to Levitt.
"There are so many web publishing businesses," Levitt says. "We're at home and not as competitive, so people like us for that reason. We do it because we enjoy doing it."
Levitt says designing web sites at home for a relatively cheap cost might be backfiring for the couple, as people assume a quality product will come attached to a high price.
"Sometimes we're looking at raising our prices just so people don't think we're a fly-by-night company," Levitt jokes.
One of the local clients of MagicPub is Bicycle Classics on Highland Avenue. Owner Mike Kone says because he has a unique business, selling vintage bicycle parts, having a presence on the Web helps him advertise.
"It's a great way to access people all over the world in a relatively inexpensive way," Kone says.
The Bicycle Classics web site, at http://bicycleclassics.com, offers a sampling of the store's product line. Kone says he has no plans to allow people to order directly from the Web, because some of his products are fairly rare and may not always be in stock.
Bicycle Classics has customers from around the world, so Kone believes the site is a valuable tool.
"It's a good and solid return for your advertising dollars," Kone says.
Levitt says NeedhamOnline is also seen and used by people all over the world. Some are planning on moving to Needham, and some just stumble across it while searching for other things.
"Everybody has liked it. We're getting a great response from people from all over the world," Levitt says. "Some of them found it because their last name is Needham."
The site includes a guest book visitors can sign. Many of the writers say they used to live in Needham and miss the town, while there are also those like Matt Needham of New Zealand who simply saw a familiar word.
NeedhamOnline even won an award. Microsoft sponsored a contest for pages designed using its Web design software, FrontPage, and NeedhamOnline was in the top five web sites.
The Grey Goose page on NeedhamOnline is an initial attempt for the company to gauge the success of Internet advertising, according to co-owner Claudia Greenfield.
"It's a good way to test out the market and see whether in fact it's a good vehicle for us to advertise," Greenfield says.
The Grey Goose may eventually move toward selling products online, but Greenfield says she thinks most of the company's products would be difficult to sell over the Web because, like Bicycle Classics merchandise, the boutique is somewhat unique.
The web site for Backcare Basics on Highland Avenue also has a relatively minimalist, advertising-only design at http://www.backcarebasics.com The company's site gives Web surfers a coupon for a free gift with a purchase.
The most extensive business site in Needham seems to be Levitt's Amydoodles. The site at
http://www.amydoodles.com allows customers to purchase her personalized crafts after seeing pictures of many of them. But Levitt says she uses the web site as a tool to supplement her normal sales, not replace them.
"What is interesting is that not all of those items I have sold over the Internet are on my web site," Levitt says. "I talk through email or on the phone to customers about other products. My web site is a stepping stone to what I can offer."
Levitt says she receives much of her orders through the Internet. While business with Needham customers has slowed down for the summer, the Internet clients keep ordering.
"I come back and I have tons of email I have to answer," Levitt says. "My Internet business has not slacked off at all."
Another Needham business, Community Newspaper Company, offers Internet versions of several of its newspapers, including the Needham TAB, through Town Online. Every story in the paper can be found at http://www.townonline.com. Other features include information about local government, a list of community groups with contact names and numbers, an online calendar of events and Needham-specific chat rooms and bulletin boards.
Despite its growing success as a tool for businesses, other people and organizations also find a home on the web. Perhaps the most extensive Needham web site has been created by the Needham Public Schools. At http://www.needham.k12.ma.us, the school site, still a work in progress, has several features.
The section on the High School has a button labeled "Curriculum," where a surfer can find examples of student work. Teacher Jim Modena says students learn how to design and create web pages to publish their research projects for the world.
"It gives them an opportunity to learn," Modena says. "[Web authoring] is a skill I think most students should learn before they graduate from high school. They're not jaded yet, and they still find it exciting."
The student work on the Web ranges from amusing to truly educational. A site set up by students Nick Heinle and Andy Clausen focuses on the Manhattan Project and the creation of the atomic bomb. Heinle's grandfather was the chief engineer on the project.
A well-designed and mildly disturbing offering from Dave Kotlyar and Jeremy Raelin details the history of torture, complete with pictures and descriptions of many torture devices. This is a page not for the squeamish.
The High School site also has the student newspaper, The Hilltopper, and a High School Mad Lib, as well as several other class projects and administrative information. The other schools all have their own web sites as well, although some are still being developed.
Some Needhamites have taken the plunge and put up personal sites about interests of theirs. Lenny Reisner presents the Needham, MA, Phish Page, devoted to the band Phish. The brightly colored site can be found at http://pw2.netcom.com/~lmbaby/Phish_Page.html.
As more people flock to the Web, Needham may be on the forefront of change. A survey done for the school technology plan indicates that only 9 percent of students in grades seven through nine do not have computers, so they can use the skills they have learned to put up their own sites, according to Modena.
"It's just plain useful in so many different ways" Modena says. "It's just going to get better and better."